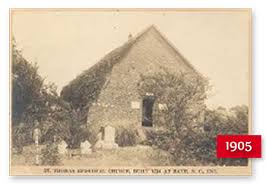 During the early years, the parish was without a church building or minister. Records indicate that a small group began holding services with lay readers in local homes around 1701. Land on the western bank of Bath Creek was laid out as a glebe around 1706, although there was not yet a minister to farm these lands.
In October 1734 the vestry and church wardens wrote to the Society for the Propagation Of the Gospel in Foreign Parts saying, "We are now building at our own proper Costs a small church (being the only one in the whole Province), but we fear our abilities will be far short of completing and adorning the same as becomes the temple of God." Within several years the church was built and ministers came.
In 1823 St. Thomas was formally accepted into the Diocese of North Carolina and consecrated in 1826. Until the Civil War, St. Thomas was served by at least fifteen clergymen. In 1840 a fierce storm blew off the roof and damaged the interior. As part of the restoration, new furniture and fixtures were installed reflecting the Victorian era. Some of these items remain, now historic as well. The subsequent fortunes of the parish were hampered by fluctuations in the numbers of members and clergy and the deterioration of the building.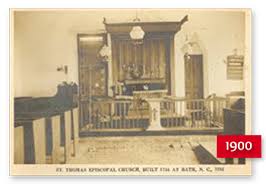 In 1936 the bishop sent The Rev. A.C.D. Noe to St. Thomas, charged with the task of preserving and restoring the church building as an historic treasure. The restoration began in earnest in 1939 under the direction of The Rev. Noe and Robert B. Davis, a local self-taught architect and builder. As this work went on, Fr. Noe also raised an awareness of Bath's historic significance.