Fellowship & Worship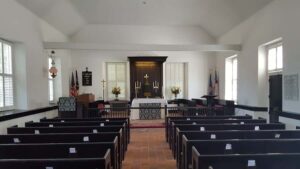 We are currently offering regular indoor services with Holy Eucharist every Sunday at 8 and 10 AM.  St. Thomas uses the Book of Common Prayer, Rite II.                
Our life together revolves around worship, fellowship and service to others. We value the feelings of openness, acceptance and caring in our congregation. We value the experience of worshiping in a small, historic church and the ceremony of the traditional Episcopal liturgy. And we find that volunteering our services and working together to help those in need locally and abroad enriches our personal faith and strengthens our sense of community.
Find out what to expect on a Sunday by clicking the button below.