Welcome
St. Thomas Episcopal Church, in the heart of Historic Bath, has been an active parish for more than 300 years.
The church was built in 1734 and is the oldest church building in the state.
Services are held in the historic structure every Sunday as well as other times throughout the year.
The St. Thomas family welcomes visitors who are just passing through,
as well as those who may be searching for a new home of worship.
Our deep connection to the Bath community was highlighted in the March 2023 edition of Our State magazine Bath Library
Our Church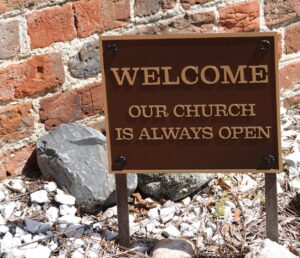 St. Thomas Episcopal Church is an active parish family with open arms for all persons who will worship and celebrate with us. We are committed to the enhancement of personal faith, service to those in need, respect for human diversity, thanksgiving for God's gifts, and growth in living the mission of Christ's Church.
We offer worship services with Holy Eucharist every Sunday at 8 & 10 AM.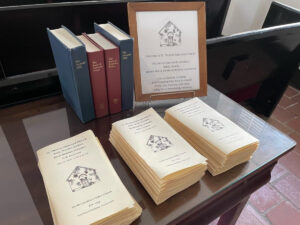 September 17, 2023
Sixteenth Sunday after Pentecost
For a copy of this Sunday's bulletin, including the lessons and prayer list,
please click below
"Love one another with mutual affection;
outdo one another in showing honor." Romans 12:10
---

A Prayer for Ukraine
Almighty God and Father of all,
Look mercifully upon the people of Ukraine in their time of danger, strengthen
the brave and shield the innocent; give their leaders discerning minds to
increase peace and sovereignty throughout their land. In the world,
quicken the nations to provide for their relief, and bring about your
righteousness in every land.
All this we ask through your Son, our Savior, Jesus Christ. Amen
---
A Prayer for Victims of Gun Violence
           We beseech you to hear our sighs, O God,
           as we turn to you in deep sorrow,
           and receive our supplications for the victims of gun violence.
           Send your Holy Spirit, to comfort those in their affliction.
           In your loving mercy, forgive our nation for our increasing
           indifference to violence, and idolatrous affections.
           Grant our citizens the courage to continue our efforts to
           forge a more perfection Union in all virtue and righteousness,
           through Jesus Christ our Lord, who lives and reigns with you
           in the unity of the Holy Spirit. Amen.
                Written by Fr. Copeland for the people of St. Thomas, Bath